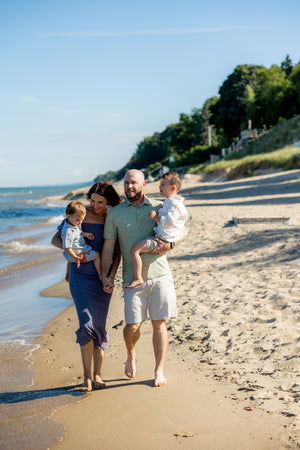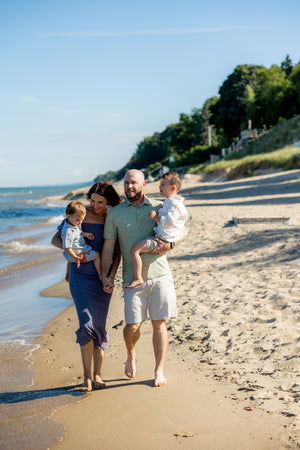 We believe Michigan has some of the most beautiful landscapes, freshwater lakes, beaches, fields, forests and waterfalls this nation has to offer.  As a family of 4 living in Michigan, we take to the outdoors as often as we can, savoring every chance to connect with nature and explore new horizons.  'It's our happy place' is a motto we carry with us on every adventure, embracing both the nostalgic and newly minted memories that span across all the seasons.
We've always known it true that experiencing Michigan's nature is something special, a wonderland of sorts.  Between campfires, dunes, water, winter and trees, one thing has always stood out as we reminisced, and it's a question we kept asking ourselves:
'How do we get more of the inspiration and happiness we feel when adventuring in Michigan into our everyday lives and into the lives of other people?'
We set out to answer just that, but quickly learned there was simply nothing out there that elicited such emotion, in addition to the superior quality, creativity and sustainability we desired. 
Enter Michigan Nature Co.! 
We are a lifestyle and apparel brand created to bring the raw nature and experience of the Michigan great outdoors to your everyday life.  Through intentionality, every design and product has a story.  It's purpose is to provoke exploration, instill happiness, and elevate your well-being.  It's a reminder to unplug and live in the moment.
So go ahead, take the scenic route, and appreciate the beauty that is all around you!